From: Vasilis Vlachoudis <Vasilis.Vlachoudis_at_cern.ch>
Date: Wed, 14 Feb 2018 13:21:05 +0000
back scattering from the material maybe?
Cheers
Vasilis
________________________________
From: owner-fluka-discuss_at_mi.infn.it [owner-fluka-discuss_at_mi.infn.it] on behalf of Beatrice Pomaro [beatrice.pomaro_at_dicea.unipd.it]
Sent: Wednesday, February 14, 2018 11:36
To: fluka-discuss
Subject: [fluka-discuss]: Attenuation coefficient for photons in a material
Dear Fluka experts,
I am simulating an irradiation experiment with a Co60 source of samples made by a different material at the same distance (20cm) from the source. I have plotted the photon flux against the sample thickness, 10cm (here below) and I find curiously that the flux at the face in front of the source (_at_20cm) is never the same, in particular it is much different when the propagation is in air (no sample).
Can you, please, explain me how I can fix this aspect?
Thank you, bests
Beatrice
[cid:7929825a4ce64f0ac46f703834ed5f90_at_dicea.unipd.it]

--
**************************************************
Ing. Beatrice Pomaro
Universita' degli Studi di Padova
Dipartimento di Ingegneria Civile, Edile e Ambientale
Via F. Marzolo, 9 - 35131 Padova (Italy)
tel.: +39 049 8275592
e-mail: beatrice.pomaro_at_dicea.unipd.it<mailto:beatrice.pomaro_at_dicea.unipd.it>


__________________________________________________________________________
You can manage unsubscription from this mailing list at
https://www.fluka.org/fluka.php?id=acc_info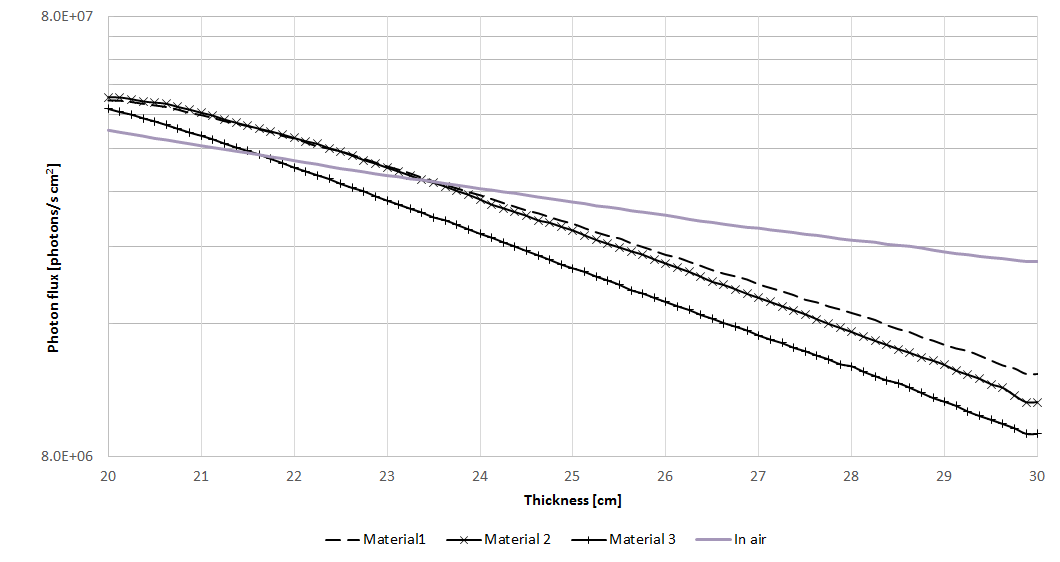 (image/png attachment: 7929825a.png)
Received on Wed Feb 14 2018 - 15:44:55 CET