From: Francis OSSWALD <francis.osswald_at_iphc.cnrs.fr>
Date: Tue, 15 Sep 2020 16:34:32 +0200
Hello,
Access rights of sigmapi.bin file included in the tar distribution have been checked and modified according to your recommendation.
No other installation problem. Ran files are now generated nicely and simulation can be performed.
The last respin will be updated by our system supervisor (Yannick).
Thanks for quick assistance. Regards,
f.
-----Message d'origine-----
De : Paola Sala [mailto:paola.sala_at_mi.infn.it]
Envoyé : lundi 14 septembre 2020 17:29
À : Francis OSSWALD
Cc : fluka-discuss
Objet : Re: [fluka-discuss]: sigmapi.bin and ran files missing
Hello
sigmapi.bin is a data file included in the fluka distribution. It is
opened, read, and closed by the code during initialization. In your case,
the code cannot open it.
You can check that it exists in $FLUPRO, if not someting went wrong with
the installation, please install again.( And I would advise you to update
in any case to the last respin fluka2020.0.3 )
Since your installation is in a system area, check also that the file
protections allow you to read it.
.. hope this helps
Paola
> Dear Fluka Experts,
>
>
>
> I am simulating interaction bewteen 1 GeV proton beam on tungsten target
> in
> order to define activation and residuals.
>
> Run stops after first cycle with no error file creation and no random file
> generated from 2nd to 5th cycle. According to
>
> *out files the sigmapi.bin file is impossible to open. I didn't find
> information about this file in the archive so no idea to
>
> solve my problem.
>
>
>
> During the Summer we switched Fluka to 2020-beta2 but kept Flair 2.3-0
> because 3.0-7 was bugging.
>
> May the errors be related to system (access to and missing files) or
> compatibilty between releases ? Could you comment
>
> a little bit the error messages please ?
>
>
>
> I attach a compilation of error messages as well as most related files.
>
> Thanks for assistance, regards,
>
>
>
> Francis
>
>
Paola Sala
INFN Milano
tel. Milano +39-0250317374
tel. CERN +41-227679148
__________________________________________________________________________
You can manage unsubscription from this mailing list at
https://www.fluka.org/fluka.php?id=acc_info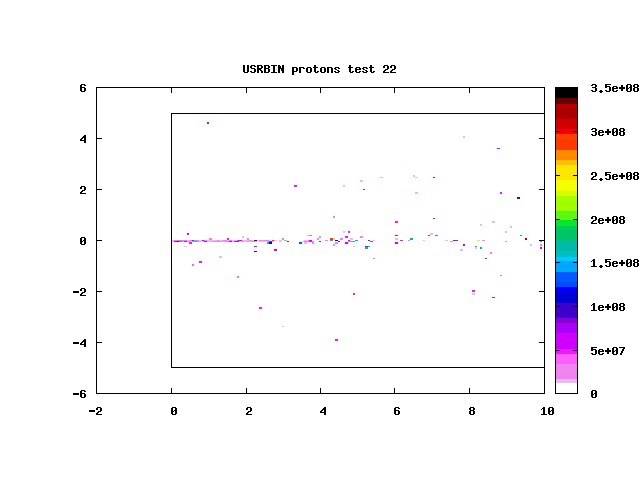 (image/jpeg attachment: InTarget_LowStats.jpg)
Received on Tue Sep 15 2020 - 18:50:03 CEST