From: Almalki, Abdulrahman <aaalmalk_at_purdue.edu>
Date: Thu, 10 Dec 2020 18:54:23 +0000
Thank you for responding on my question.
Indeed, I'm using a modified FLUKA subroutines (comscw) for a different quantities weights such as dose averaged LET and it works as it should be. The dose averaged kinetic energy also could be scored which I've done it correctly. The problem is that the 1D plot shows an underestimated kinetic energy along the proton path (116 MeV pencil beam). After offline postprocessing, the KE at the entrance is about 10% less (plot attached) and over 70% higher at the BP. Based on NIST website, KE at the BP corresponds to 8.7 keV/um is roughly 4.8 MeV while the scored value is 7.7 MeV.
I'm not sure if my approach is viable to score the KE. If yes then why I get this variation in scoring KE while the LET is scored accurately.
Your help is much appreciated.
Thank you
On 12/10/20, 12:05 PM, "Paola Sala" <paola.sala_at_mi.infn.it> wrote:
Hello
sorry for the late answer.
There are two possibilities, probably neither of them fulfills completely
your need:
You can get the spectrum of selected particle types **within a given region**
with the USRTRACK scoring. It means that particles in all points of the
selected region will be included in the scoring.
Or, you can segment your phantom in slices and score particle spectra at
boundaries between subsewuent slices with USRBDX. In this way, you can get
kinetic energy spectra of selected particles at selected depths
Hope this helps
Paola
> Hello FLUKA Expert,
> I'm interested in scoring the kinetic energy of a different particles
> along the ion path in water phantom (therapeutic ions). The USRBINs only
> score the deposited energy and other qualities not the KE. As a beginner,
> I'm wondering if there is a way to score the kinetic energies along the
> beam line.
>
> Thank you
>
> A.A
>
Paola Sala
INFN Milano
tel. Milano +39-0250317374
tel. CERN +41-227679148
__________________________________________________________________________
You can manage unsubscription from this mailing list at
https://www.fluka.org/fluka.php?id=acc_info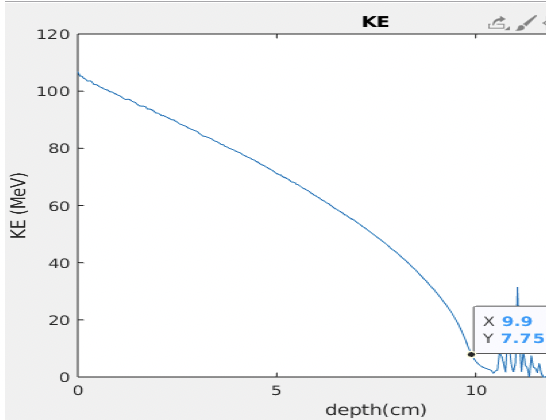 (image/png attachment: Screen_Shot_2020-12-10_at_1.23.51_PM.png)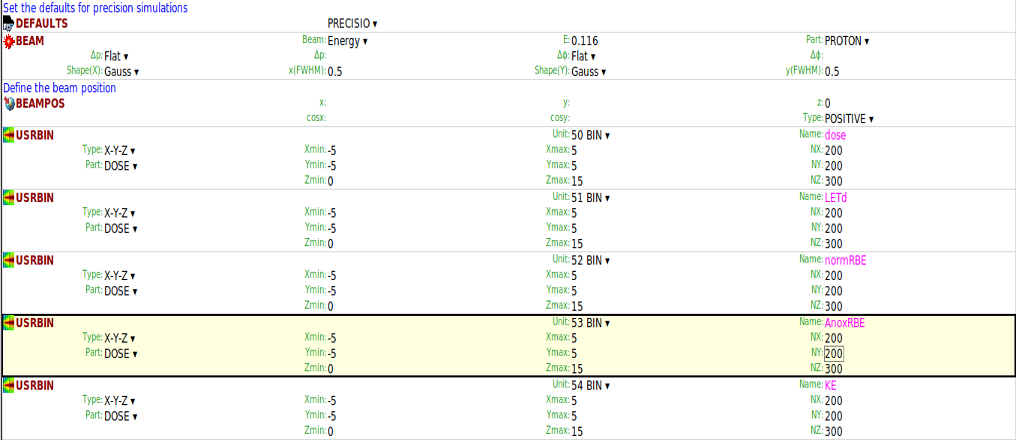 (image/png attachment: input_file_PIC.png)
Received on Thu Dec 10 2020 - 21:34:01 CET