From: Roxana-georgiana Rata U1179323 <Roxana.Rata_at_hud.ac.uk>
Date: Mon, 3 Aug 2015 15:31:11 +0000
Dear FLUKA experts,
I have to calculate the neutron dose coming up from an Al beam tube. I placed the beam tube in the right side of the room, as the proton beam is coming from the right. I've set the beam parameters using the BEAMPOS card, but I am not sure if is working or not, because my final results showed that the highest dose occurs in the left side of the room and not in the right. In the left side should be only air and nothing else.
Could someone check my geometry and see that I am doing wrong? Maybe I didn't place the beam tube correctly?
I attached my input and one of the plots with the dose.
Should be better to use a source file to set the beam parameters? If yes, could someone help me with this as I didn't use a source file before?
Thank you!
Regards,
Roxana
University of Huddersfield inspiring tomorrow's professionals.
[
http://marketing.hud.ac.uk/_HOSTED/EmailSig2014/EmailSigFooter.jpg
]
This transmission is confidential and may be legally privileged. If you receive it in error, please notify us immediately by e-mail and remove it from your system. If the content of this e-mail does not relate to the business of the University of Huddersfield, then we do not endorse it and will accept no liability.
__________________________________________________________________________
You can manage unsubscription from this mailing list at
https://www.fluka.org/fluka.php?id=acc_info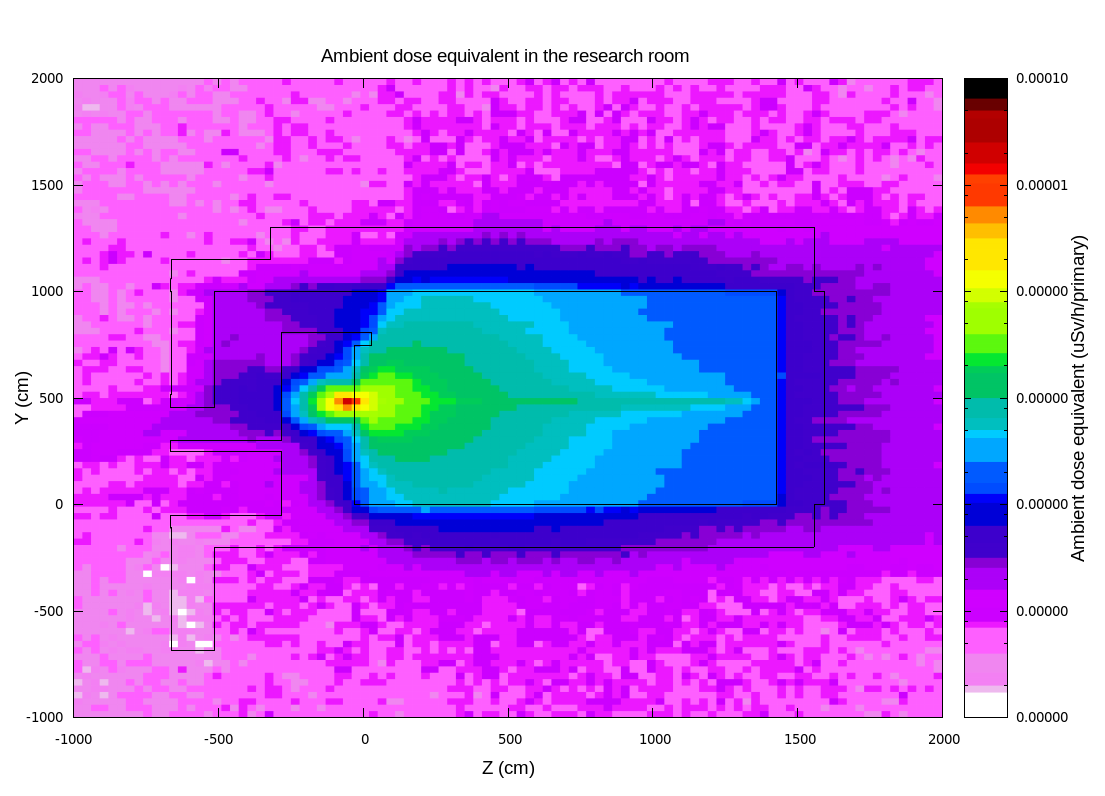 (image/png attachment: ambient_dose_eq_in_the_research_room__z-y_.png)
Received on Mon Aug 03 2015 - 19:16:22 CEST