From: Georgios Tsiledakis <Georgios.Tsiledakis_at_cern.ch>
Date: Wed, 18 Nov 2020 12:27:01 +0000
Dear experts,
I am dealing with muons of 4 GeV that hit a simple construction and calculate with EVENTBIN
the energy deposition in the gas volume. I used the PRECISIO default that has 100 keV threshold for e+, e- , gammas as well as for muons and delta rays.
If I run it without changing the default options I am getting in the energy spectra some strange peaks around 100 keV that I suppose are due to the threshold on EMF.
Changing to 1 keV with a cost on CPU time (look at the 1st pict attached) those peaks are smeared out but on average the total energies are the same. So, I decided to use a threshold at 10 keV that does not result in very long runs.
Also, (look at the 2nd pict attached), the muon energy deposition spectra change dramatically by using a DELTARAY 0.00001 (10 keV) instead of the default one (at 100 keV).
In the total energy deposition the DELTARAY does not change a lot the average value...
But in muons why? I know that in reality energy is eventually deposited by electrons only.
Thus, AUXSCORE gives the fraction due to ionization by muons, depending on the arbitrary delta ray threshold. Therefore, in this muon study, what thresholds do you recommend me to use in order to reproduce correctly the energy deposition spectra in the gas in order to calculate detection efficiencies?
Thanks a lot in advance
Georgios
__________________________________________________________________________
You can manage unsubscription from this mailing list at
https://www.fluka.org/fluka.php?id=acc_info

(image/png attachment: elphotThr.png)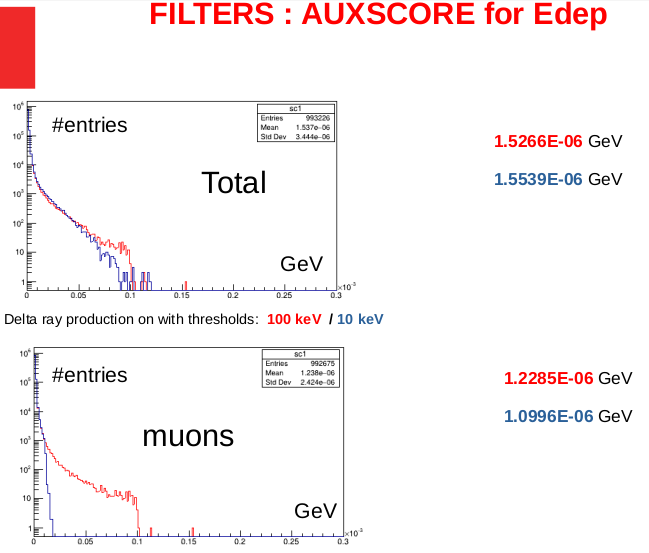 (image/png attachment: deltaThr.png)
Received on Wed Nov 18 2020 - 15:26:00 CET