From: Zanini Luca <luca.zanini_at_psi.ch>
Date: Mon, 24 May 2010 14:12:20 +0200
Dear All,

I have run the residual nuclei production in the MEGAPIE target using FLUKA 2008.3, and compared with our previous results with FLUKA2006.3b.
We are now finishing an article that compares the measured noble gases during the MEGAPIE irradiation with the calculated ones, and I thought it would be better to include that latest FLUKA predictions.

This is a spallation reaction of 575 MeV protons on a Pb/Bi target.

You can see in the attached figure the two mass distributions.
As you can see they are very similar, and in general noble gases and mercury isotopes (which were also measured) compare well (most of the values within 20-30%).

My question is about the He4 and tritium production. Here I get very different results:
For He4, I now get 0.4 atoms/proton (with FLUKA2006 it was 0.11 atoms/proton). I would like to understand this factor of 4, given the importance of this isotope.

For tritium, I now get 0.130 atoms/proton (before it was 0.073). The FLUKA2008 value seems too high, considering also that MCNPX 2.5.0 (with Bertini/Dresner) gives 0.05, in better agreement with the old FLUKA value.

On the contrary, for hydrogen we get exactly the same value.

Any reason that explains the differences for He4 and H3?

I used in both cases the same input files, and I believe (unless I made some mistakes..) that I linked correctly to rQMD. The physics options are listed below.

Thank you very much in advance,
Luca

<<fig.jpg>>

GLOBAL 1.0
*AAAAAAAXX_________|_________|_________|_________|_________|_________|
DEFAULTS EET/TRAN
BEAM -0.575 0.0 0.0 1.0PROTON
BEAMPOS 0.0 0.0 -19.0 0.0 0.0
SOURCE -19.
EMF
PHYSICS 3.0 EVAPORAT
PHYSICS 1.0 COALESCE
PHYSICS 0.05 DPMTHRES
PHYSICS 0.05 QMDTHRES
EVENTYPE 2. DPMJET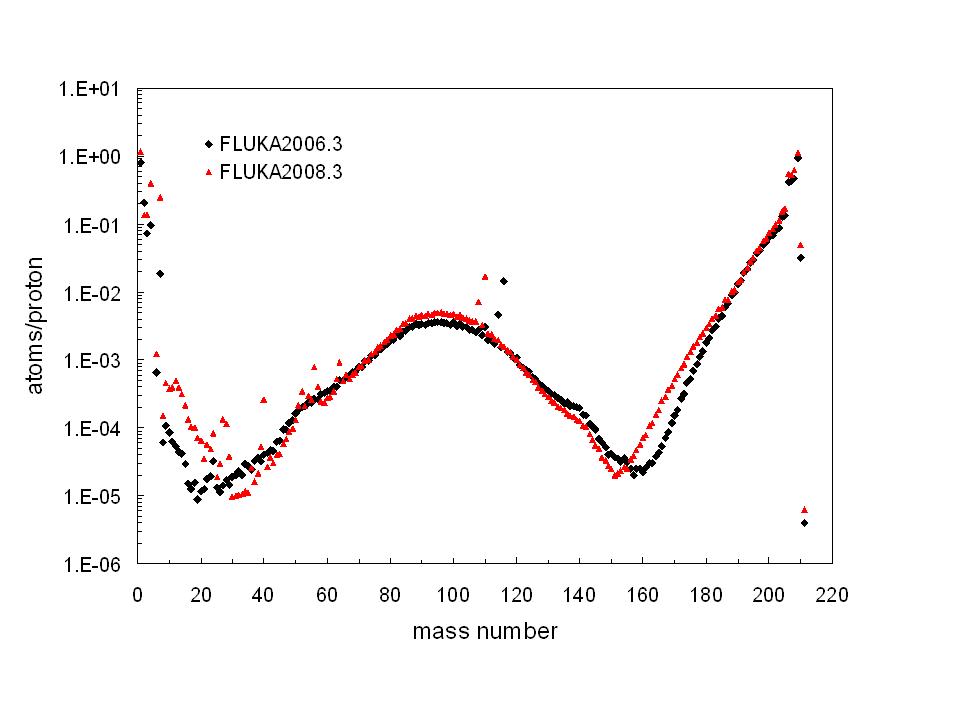 Received on Mon May 24 2010 - 14:57:42 CEST