From: lzf neu <lzfneu_at_live.com>
Date: Tue, 8 Aug 2017 13:14:06 +0000
Hi,
My model is 3.5GeV electron hit copper block and NdFeB magnet set behind the copper block in aluminum bracket.
I have calculated Silicon 1 MeV-neutron equivalent fluence(cm-2) induced by different energies of proton to characterize the proton radiation damage for NdFeB magnet.
The calculation result shows that there is a drastically decrease in lower than about 100keV proton energy. (please see calculation-result.jpg in the attachment)
I don't know why there is a drastically decrease or is there a cut-off energy when FLUKA doing the caluclation by default ? (by the way i set the defaults for precision simulations using PRECISIO)
In my input file, I use USRTRACK card with SI1MEVNE part and AUXSCORE to filter proton to perform the calculation.
I have attatched the input file and the calculation result in the attachment, any help will appreciated and thanks in advance !
__________________________________________________________________________
You can manage unsubscription from this mailing list at
https://www.fluka.org/fluka.php?id=acc_info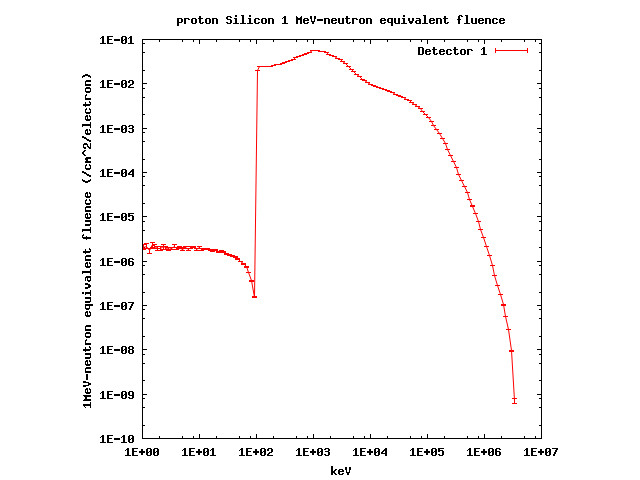 (image/jpeg attachment: calculation-result.jpg)
Received on Tue Aug 08 2017 - 16:44:43 CEST