From: Konstantin Roensch <konstantin.roensch_at_tu-ilmenau.de>
Date: Mon, 18 Dec 2017 15:13:41 +0100
Dear Fluka experts,
Now i have another question on my simulation with Fluka.
I captured a spectrum through USRBDX and manually built this into the
date source. This worked.
Now, I want the source not as an "area-beam", but as a sphere shaped
source (1cm³) that radiates the spectrum into space spherically; start:
(x=0,y=0,z=100).
Does anyone have experience with similar tasks and an idea of how I can
to adapt the source in the Source.f?
Thank you so much for your help, it is highly appreciated!
Yours,
Konstantin
__________________________________________________________________________
You can manage unsubscription from this mailing list at
https://www.fluka.org/fluka.php?id=acc_info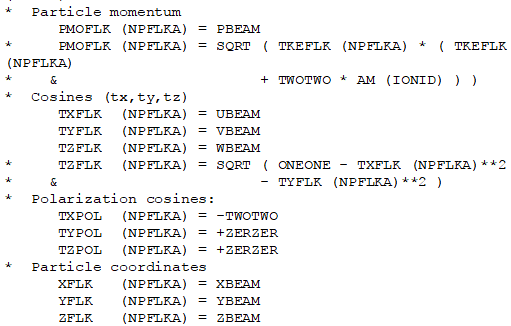 (image/png attachment: sphere_shaped_source.png)
Received on Mon Dec 18 2017 - 16:18:52 CET