From: Hayley Cavanagh - UKRI STFC <hayley.cavanagh_at_stfc.ac.uk>
Date: Wed, 3 Oct 2018 11:06:16 +0000
Dear F4D Developers
I am trying to install F4D on Windows10 Pro.
I have followed the instructions
https://flukadocker.github.io/F4D/
and have been able to test the docker installation and run the installation scripts.
I have used XLaunch to start Xming as instructed and run the run_win10_professional batch file, sharing the C:\ with docker.
I see no errors, but have had the line 'Starting Fluka container...' for more than one hour and nothing more is happening.
(See attachment for command line output).
The next instruction is 'once in the docker container shell...'
Please can you assist me as it is not obvious to me how I access the docker container shell...?
There are currently 0 clients connected in Xming - is this the problem? If so, how do I fix it?
The C:\docker\docker_work folder is empty.
Many thanks for any assistance you can give.
Hayley
Hayley Cavanagh
Senior Accelerator Physicist
ISIS Facility
Rutherford Appleton Laboratory
UK
OX11 0QX
01235 445524
hayley.cavanagh_at_stfc.ac.uk
__________________________________________________________________________
You can manage unsubscription from this mailing list at
https://www.fluka.org/fluka.php?id=acc_info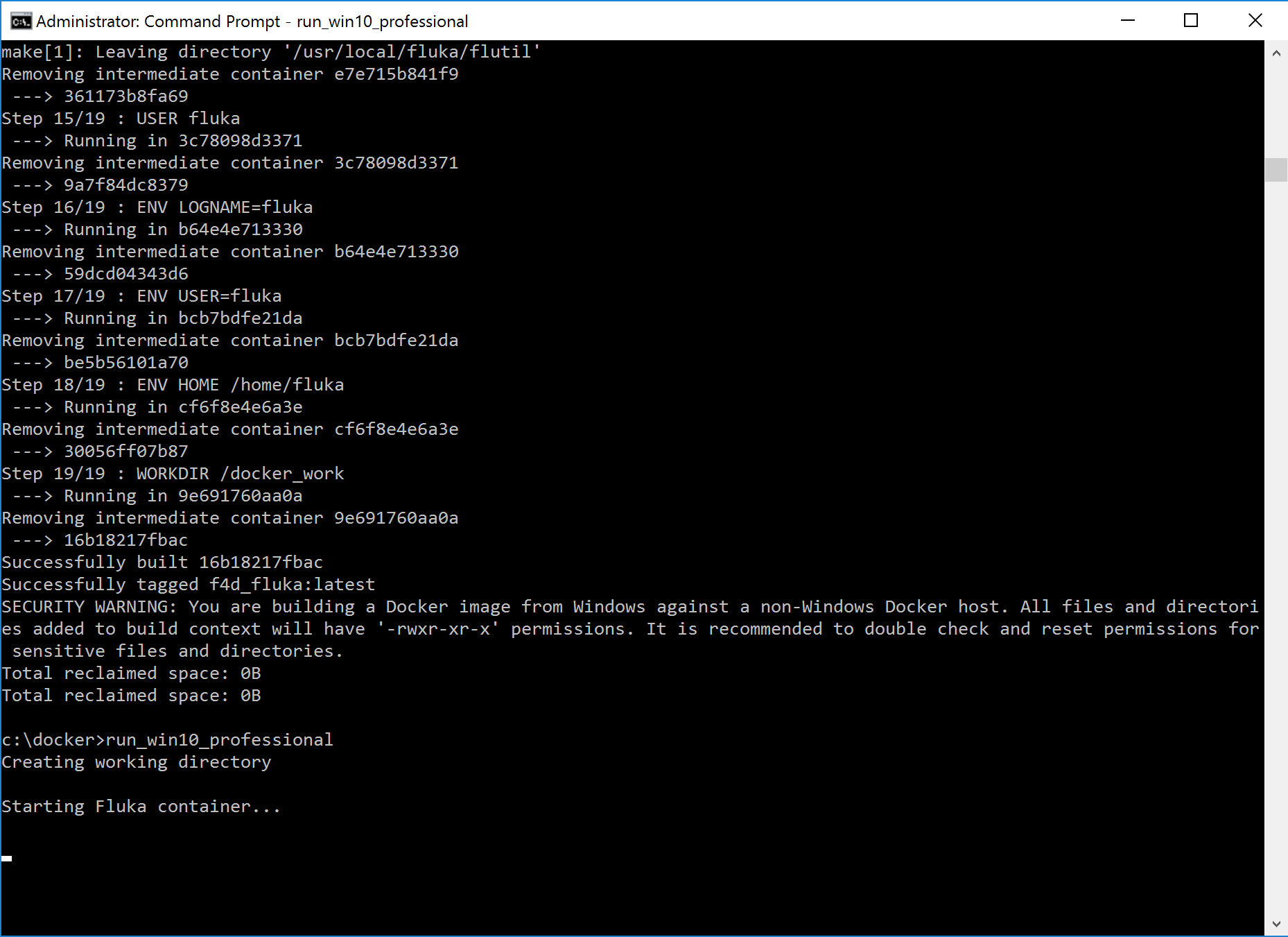 (image/png attachment: starting_fluka_container.png)
Received on Wed Oct 03 2018 - 14:22:11 CEST