From: Andrew Hastings <ahasti4_at_lsu.edu>
Date: Fri, 17 May 2019 16:08:17 +0000
Fluka team,
I've been looking at several of the training resources and the user's manual to try and figure out how to make this work. I need to use USRBIN over a large area (ideally 50000 x 50000 x 50000 cubic cm) to observe neutron contributions to skyshine. I've made several attempts at input cards, but no matter what combination I try, the file displays as a blank canvas in Flair's GeoViewer. Attached is my program and some screenshots. Ideally, I want to see neutron energies, and deposited energy or dose in some format. I've tried using dimensions 1/10th this size but still have this issue.
My primary question is, am I misusing USRBIN somehow (Input syntax, too large a region, or something else)?
As you will see in the screenshots, I have managed to get USERDUMP to work just fine, and confirm the existence of electrons, photons, and neutrons in the program. I am also aware of AUXSCORE, and will be taking advantage of the ability to isolate neutrons once I am able to make USRBIN work correctly.
1. USERDUMP showing 1000 neutron tracks from top down view of facility. The large distance traveled is why I want such a large USRBIN volume.
[cid:image002.png_at_01D50CA0.332F3490]
2. USRBIN attempt in all 4 windows. Input card uses Binary output format, as I believe is required for flair to display it. As you can see, no information is presented, and this is the case for any Detector type I select.
[cid:image003.png_at_01D50CA0.D3297D70]
Kindest Regards,
[1465572792562_image003.png]
Andrew D. Hastings
Medical Physics and Health Physics Graduate Student (MS)
Louisiana State University
(225)333-8435|ahasti4_at_lsu.edu<mailto:ahasti4_at_lsu.edu>
__________________________________________________________________________
You can manage unsubscription from this mailing list at
https://www.fluka.org/fluka.php?id=acc_info


(image/png attachment: image001.png)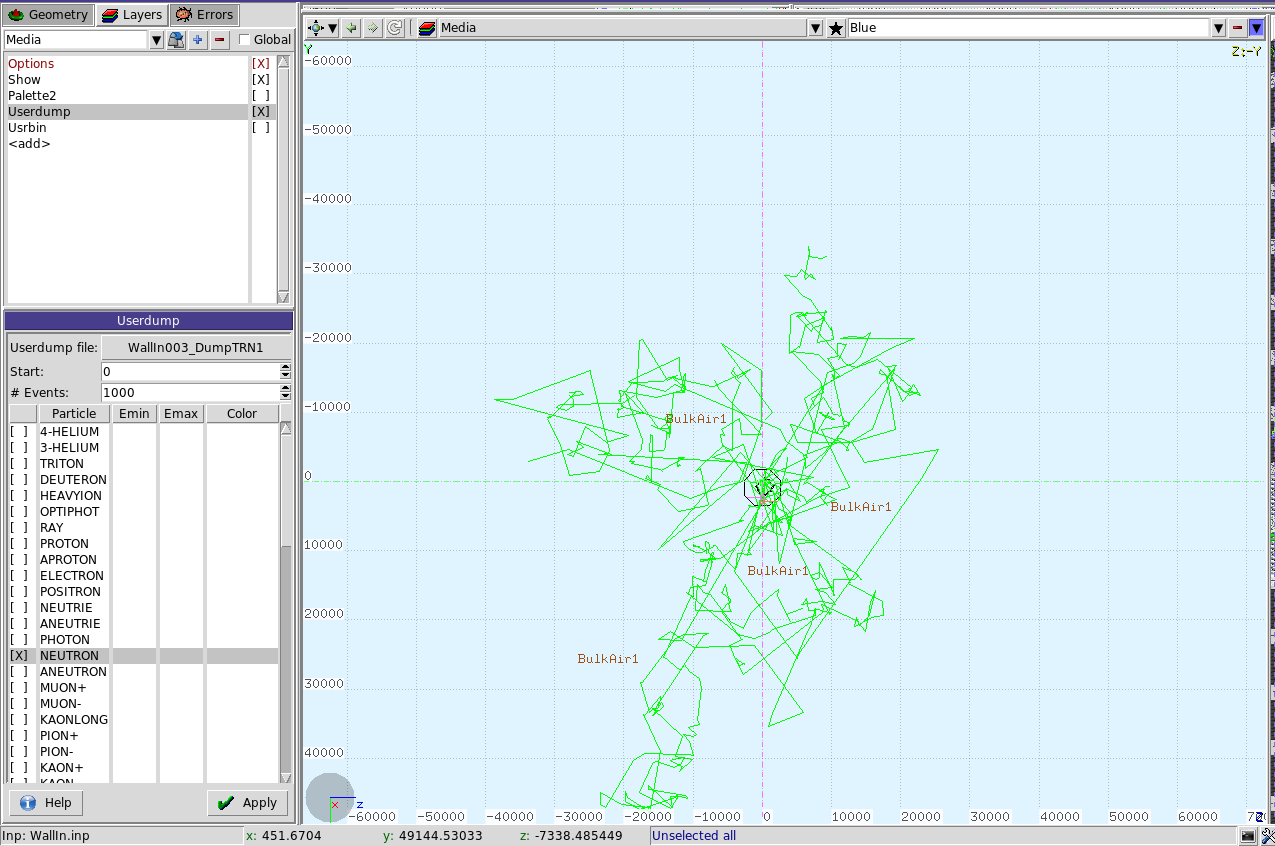 (image/png attachment: image002.png)

(image/png attachment: image003.png)
application/octet-stream attachment: magfld.f
Received on Fri May 17 2019 - 19:24:14 CEST