From: Trinh Ngoc-Duy <Ngoc-Duy.Trinh_at_ganil.fr>
Date: Wed, 16 Dec 2015 16:56:55 +0000
Dear FLUKA users,
I'm simulating an experiment : A beam of 12C (30MeV/A) irradiate a copper target. I want to see the spectre of 12C in this copper target, so i use a USRTRACK scoring from 0-400 MeV, with energybin of 1 MeV width.
But i obtain a very strange spectre, the distribution of 12C in target is some way discrete (it should be continuous). I tried with other beam, other energy but i still obtain the same result.
I put my code, output of USRTRACK and a figure in attachement, please check it for me.
Thank you very much for your help.
Best regards.
Ngoc Duy TRINH, PhD student, GANIL, France.
__________________________________________________________________________
You can manage unsubscription from this mailing list at
https://www.fluka.org/fluka.php?id=acc_info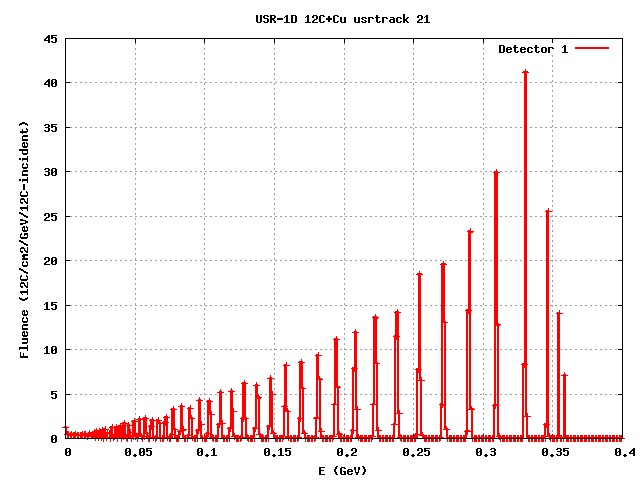 (image/jpeg attachment: 12C_Cu_usrtrack_21_plot.jpg)
Received on Wed Dec 16 2015 - 19:51:25 CET