From: <tristan.davenne_at_stfc.ac.uk>
Date: Thu, 29 Sep 2016 12:43:45 +0000
Dear FLUKA experts,
I am scoring net charge and energy deposited in a target. The target has an incident proton beam coming from left to right.
I have enough primary particles to give an extremely smooth contour of the energy deposition (shown below), and yet the contour of net charge is very rough, appearing as though there are not enough primary particles.
Is there a fundamental reason why the net charge plot is so noisy by comparison to the energy deposition plot? Is this physically correct or do I need better statistics?
Net charge
[cid:image001.png_at_01D21A57.7FF00900]
Energy Deposition
[cid:image002.png_at_01D21A57.7FF00900]
Kind Regards
Tristan
__________________________________________________________________________
You can manage unsubscription from this mailing list at
https://www.fluka.org/fluka.php?id=acc_info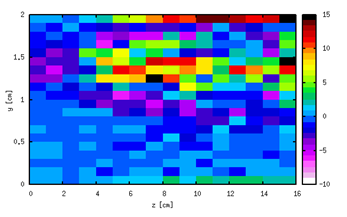 (image/png attachment: image001.png)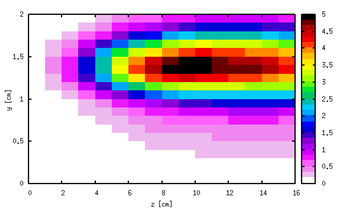 (image/png attachment: image002.png)
Received on Thu Sep 29 2016 - 16:50:45 CEST