From: Francesco Di Matteo <francesco.dimatteo2_at_studio.unibo.it>
Date: Wed, 1 Feb 2017 18:58:50 +0000
Dear Vittorio,
following your instructions, i was able to import the icrp phantom on fluka and run
succesfully some simulations but i have a question about the plots that i obtain from simulations. I'll send you an image of what i'm talking about. In detail, in every plot i did, there is a parallelepiped cage sourrounding the phantom. I think this cage corrispond to region VOXEL in the geometry, and fluka manual (page 298) says that this region VOXEL is a sort of cage for all the voxels of the model. According to the manual I assigned to this region the material vacuum. I also assigned air and other materials to the phantom but everytime i do the plots i see this cage contour around the phantom.
Do you know if this cage, that appears like a discontinuity, can affect the results of my simulations or it is just a problem of visualization due to the import of the model in fluka?? The plot is an energy usrbin.
Thank you very much for your help,
Best regards
Francesco
________________________________
Da: Vittorio Boccone <dr.vittorio.boccone_at_ieee.org>
Inviato: sabato 26 novembre 2016 18.33.36
A: Francesco Di Matteo
Cc: fluka-discuss_at_fluka.org
Oggetto: Re: [fluka-discuss]: Built and import an anthropomorphic phantom in Fluka
Hi Matteo,
If you are new to Fluka I would suggest you to go thought the course material to get familiar with the lingo and the feature of the code.
About the ICRP, check those two threads:
http://www.fluka.org/web_archive/earchive/new-fluka-discuss/9282.html
http://www.fluka.org/web_archive/earchive/new-fluka-discuss/3364.html
Please read the thread, here you might find also some chunk of code which might expo you on the way:
https://github.com/drbokko/fluka-snippets
Best
Vittorio
On 26 Nov 2016, at 11:55, Francesco Di Matteo <francesco.dimatteo2_at_studio.unibo.it<mailto:francesco.dimatteo2_at_studio.unibo.it>> wrote:
Dear Fluka Experts,
I'm an engineer and in this period I'm working on my thesis with Fluka. In particular, my project is about the validation of a shielding material and then use this material to set up a dosimetric analysis on a human phantom. My problem is just on the construction of the phantom.
The models that I have to use are the adult reference phantoms from the ICRP publication 110.
I chose the male model, that is made of the following files:
- AM.dat
- AM_blood.dat
- AM_media.dat
- AM_organs.dat
- AM_spongiosa.dat
My question is: how can i use all these files to built a full complete phantom ( with all organs..) and import it in Fluka??
I understand that the way is the voxel conversion and i also found on the fluka manual a program but I don't know how to work in the correct way.
Can someone guide me ?
Many thanks for considering my request and for the support.
Best regards
Francesco Di Matteo
__________________________________________________________________________
You can manage unsubscription from this mailing list at
https://www.fluka.org/fluka.php?id=acc_info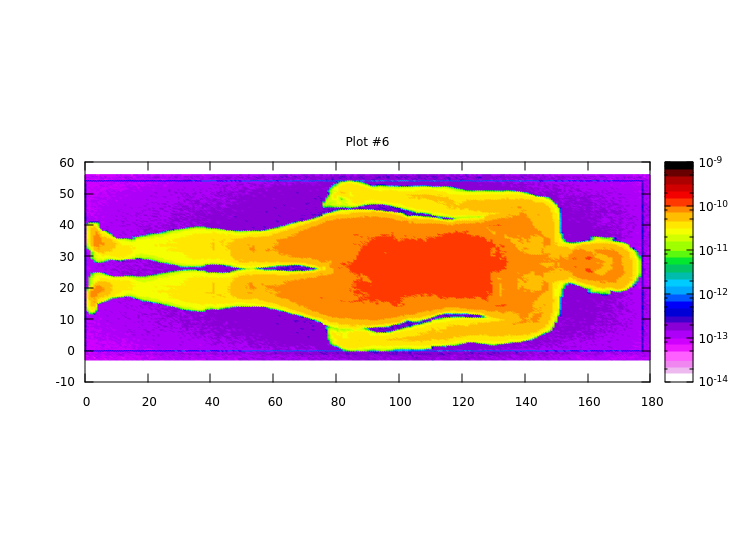 (image/png attachment: plot.png)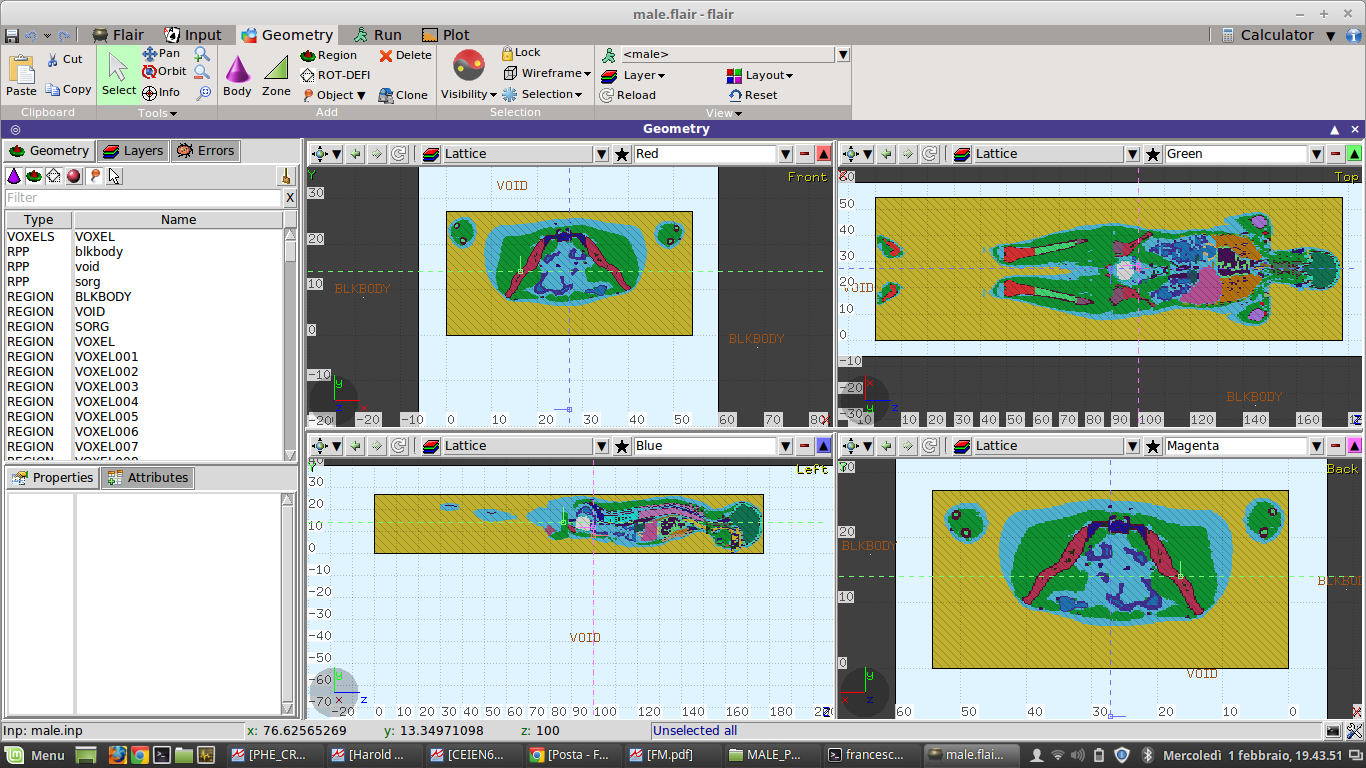 (image/png attachment: geometry.png)
Received on Wed Feb 01 2017 - 21:44:29 CET