From: Ivan <gordeev_at_jinr.ru>
Date: Fri, 31 May 2019 01:35:39 +0300
Hello FLUKA users and developers!
I've just got a strange problem. I've downloaded this FLUKA .tar.gz:
> fluka2011.2x-linux-gfor64bit-7.4-AA.tar.gz
> <https://www.fluka.org/packages/fluka2011.2x-linux-gfor64bit-7.4-AA.tar.gz>
> fluka2011.2x-6, 64 bit, gfortran 7.4 20th of March, 2019 163 MB
>
From official website and after installing it and launching my input
file, I have got an error in my .out file (see attached picture). It
says "Unexpected end of input: START assumed" so many times that .out
file is 5 gb after about 1 minute of running. The thing is that my input
file works correctly on my PC (with gfortran 8), I have got this error
on another machine with gfortran 7.4. I am sure that input file is ok,
also, in the nohup.out I have some errors (also attached). Can't attach
full .out file, because it is huge and meaningless, the interesting
thing is only this line that I mentioned before and nohup also doesn't
contain anything interesting except what I wrote about above.
Please help me to understand what to do with this problem!
Kind regards and best wishes,
Ivan
__________________________________________________________________________
You can manage unsubscription from this mailing list at
https://www.fluka.org/fluka.php?id=acc_info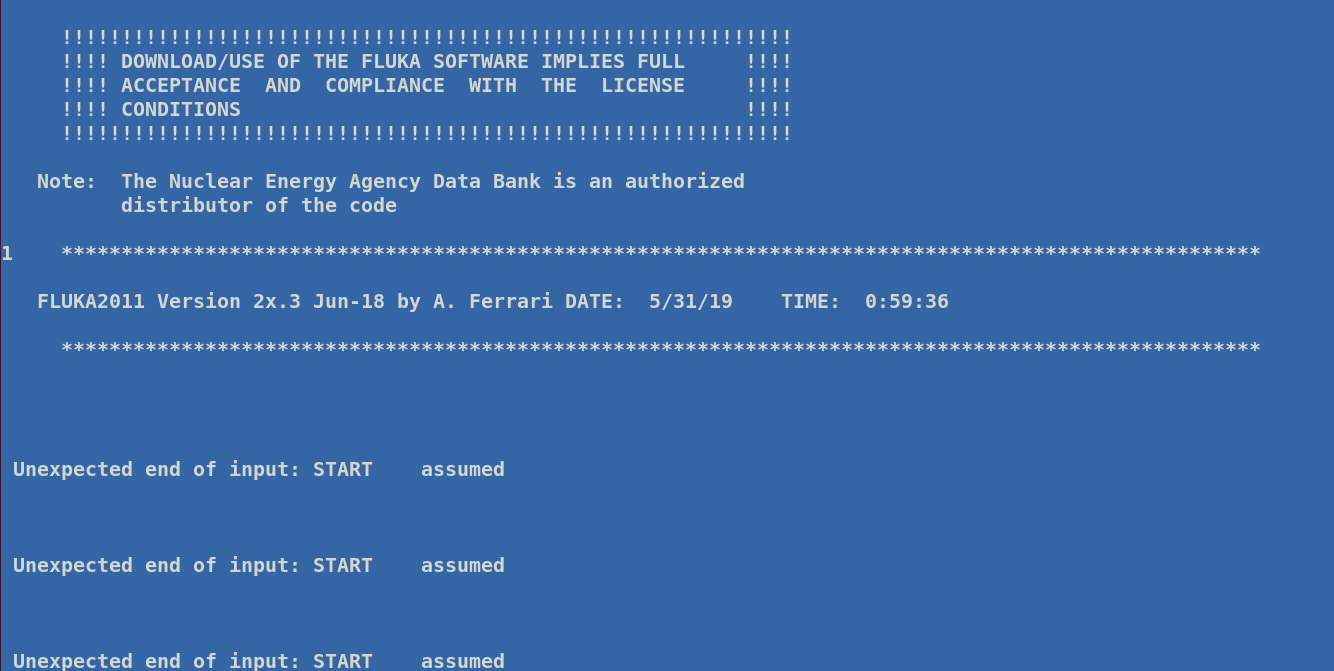 (image/png attachment: FLUKA_Problem.png)


(image/png attachment: FLUKA_Problem2.png)
Received on Fri May 31 2019 - 02:16:30 CEST