From: Senger, Anna Dr. <A.Senger_at_gsi.de>
Date: Mon, 12 Apr 2021 12:00:03 +0000
Dear Stefan.
All these pictures are with this FLUKA version (Version.tag):
The latest version is: 2020.0.6
respin: Janaury 24th 2021
Fluka2020.0 released on: January 17th 2020
I found only one data set, which I can directly compare with new.
But I cannot say the version of FLUKA.
I see, there is new FLUKA from 11.04.2021. I will repeat my calculation with this version.
Regards
Anna
-----Ursprüngliche Nachricht-----
Von: Stefan E. Mueller <stefan.mueller_at_hzdr.de>
Gesendet: Montag, 12. April 2021 13:41
An: Senger, Anna Dr. <A.Senger_at_gsi.de>
Cc: 'fluka-discuss_at_fluka.org' <fluka-discuss_at_fluka.org>
Betreff: Re: [fluka-discuss]: Strange K+ distribution
Dear Anna,
to further analyze your question, could you provide the FLUKA version
numbers you used for your earlier and new distributions?
This could help to understand the reason for the change.
Also, just to be sure, the piK.png figure was produced with the earlier
FLUKA version, and the figures E_piK.png and chargedParticles.png are
obtained with the newer FLUKA version?
Best regards,
Stefan

--
Stefan E. Mueller
Department of Information Services and Computing - Computational Science
and Institute of Radiation Physics
Helmholtz-Zentrum Dresden-Rossendorf
Tel: +49 (0351) 260 3847
Stefan.Mueller_at_hzdr.de
http://www.hzdr.de
Vorstand: Prof. Dr. Sebastian M. Schmidt, Dr. Diana Stiller
Vereinsregister: VR 1693 beim Amtsgericht Dresden
On Mon, 12 Apr 2021, Senger, Anna Dr. wrote:
> Dear FLUKA experts.
> I found some strange K+ production.
> I would like to update my old calculations. I simulated Au beam _at_ 11 AGeV and 250 µm Au target in magnetic field.
> The field integral is 1 Tm over a distance of ± 0.5 m around the center, with a maximum field value of 1 T.
> I used default settings for heavy ions from FLAIR:
>
> * Enable full transport of heavy and light ions
> DPMJET                                1.
> PHYSICS           2.                                                  EM-DISSO
> * Set thresholds for pair/bremsstrahlung
> PAIRBREM          3.              0.0001  HYDROGEN  _at_LASTMAT
> IONTRANS    HEAVYION
> * Set thresholds for delta ray production
> DELTARAY                                  HYDROGEN  _at_LASTMAT
>
> I found some jet in charged particle distribution (XY) at 1.5 m from the target (see chargedParticles.png).
> This jet comes from K+, which I didn't see earlier (see piK.png). I calculated energy spectra in target (E_piK.png).
> I cannot understand the two peaks in the energy distribution for K+. The high energy peak is exactly the jet, which appears in new FLUKA version.
> Is it expected? I need to explain the increase the charged particle rate in the detectors due to this jet to my colleagues.
>
> Best regards
> Anna
>
> ______________________________________
>
> Dr. Anna Senger
>
> Office  KBW 2.01
> Tel.      +49(0)615971 1844
> E-Mail  A.Senger_at_gsi.de
>
> FAIR - Facility for Antiproton and Ion Research in Europe GmbH
>  
> Planckstr. 1
> 64291 Darmstadt
> DEUTSCHLAND
>
>
>


__________________________________________________________________________
You can manage unsubscription from this mailing list at
https://www.fluka.org/fluka.php?id=acc_info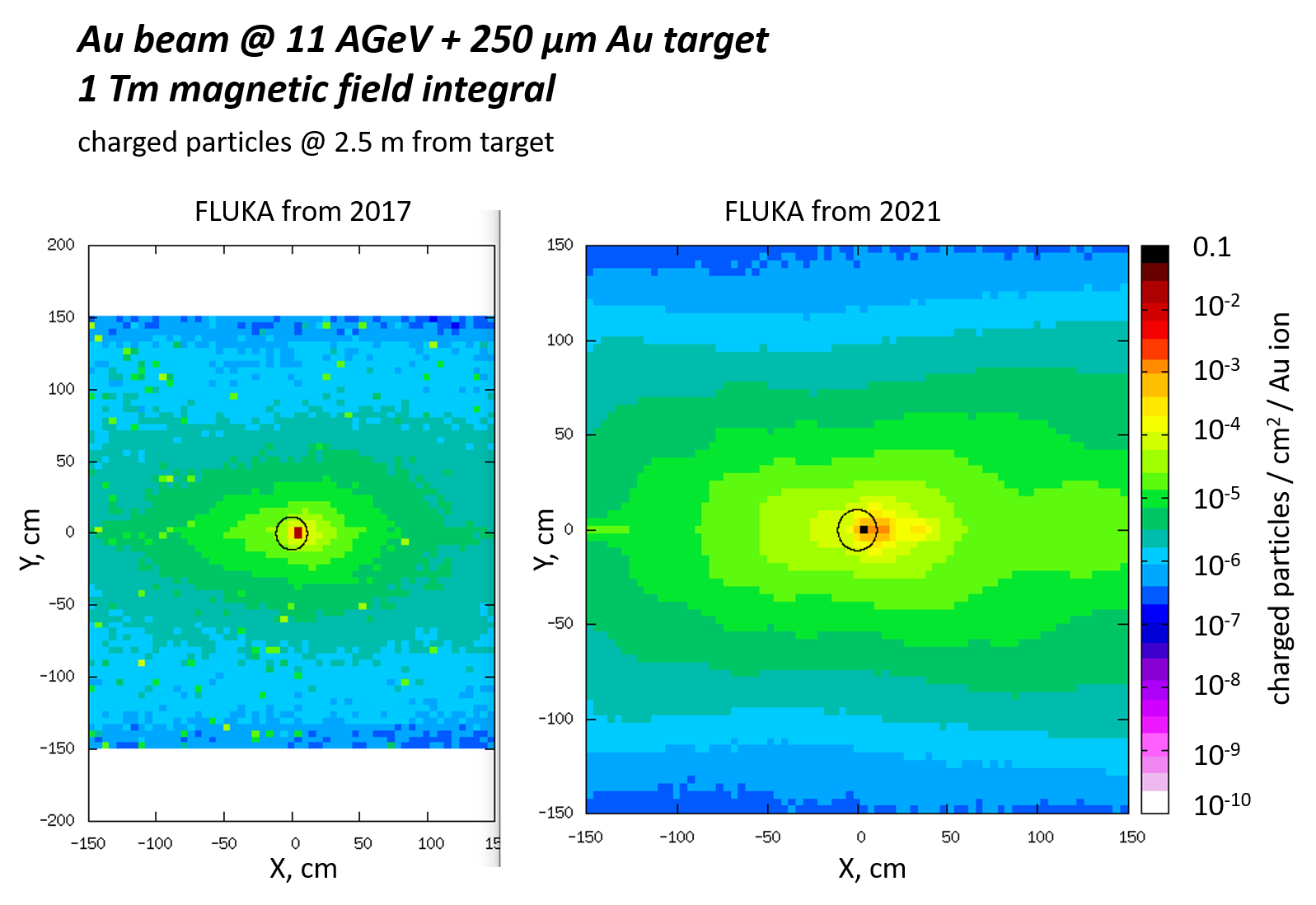 (image/png attachment: old_new.PNG)
Received on Mon Apr 12 2021 - 15:39:58 CEST