(no subject)
From: <owner-fluka-discuss_at_mi.infn.it>
Date: Tue, 24 Nov 2009 12:11:48 +0100
Hi to all
thanks to your answers i have resolved the precedent problem but unfortunatly not all.
In some simulations i have this error: i run the simulation and i process the data files without problem but when i do the plot i have the
error message in the image that i attach to this email. Why? I attach also
the image of the output window.

I hope that someone can help me.
Thank you very much for your help.
Regards

Angelo infantino

> Subject: AW: Error processing
> Date: Mon, 23 Nov 2009 11:57:41 +0100
> From: Florian.Sommerer_at_med.uni-heidelberg.de
> To: angeloinfa_at_hotmail.com
> CC: owner-fluka-discuss_at_mi.infn.it
>
> Dear Angelo,
>
>
> Have you compiled the auxiliary programs in the flutil directory? If not you can do so by typing 'make' in the $FLUPRO directory.
>
> Cheers, Florian
>
>
>
>
>
> --
> Dipl.-Ing. Dr. techn. Florian Sommerer
> Physiker
> Florian.Sommerer_at_med.uni-heidelberg.de
> Im Neuenheimer Feld 450
> 69120 Heidelberg
> Germany
>
>
> -----Ursprüngliche Nachricht-----
> Von: owner-fluka-discuss_at_mi.infn.it [mailto:owner-fluka-discuss_at_mi.infn.it] Im Auftrag von Angelo Infantino
> Gesendet: Montag, 23. November 2009 10:45
> An: Fluka discussion
> Betreff: Error processing
>
>
> Good morning to all=2C
> In the last days i have updated my laptop to ubuntu 9.10. So i have installed again Fluka.
> The simulations that i make run without problem=2C but the program doesn't process the file.
> In example i do a simulation in order to score the resnuclei in a target.
> This is the error in the output window:
>
> Processing: slab2_resnuclei_40 cmd=/home/angelo/fluka/flutil/usrsuw
> >>> sbla2005_fort.40
> >>> slab2003_fort.40
> >>> slab2004_fort.40
> >>> slab2002_fort.40
> >>> slab2001_fort.40
> >>>
> >>> slab2_resnuclei_40
> /bin/sh: /home/angelo/fluka/flutil/usrsuw: not found
>
> Error processing: slab2_resnuclei_40
>
>
> Someone can help me?
> Thank you.
> Regards
>
> Angelo Infantino
>
>

_________________________________________________________________
Messenger su ogni PC, prova la Web Bar!
http://www.messenger.it/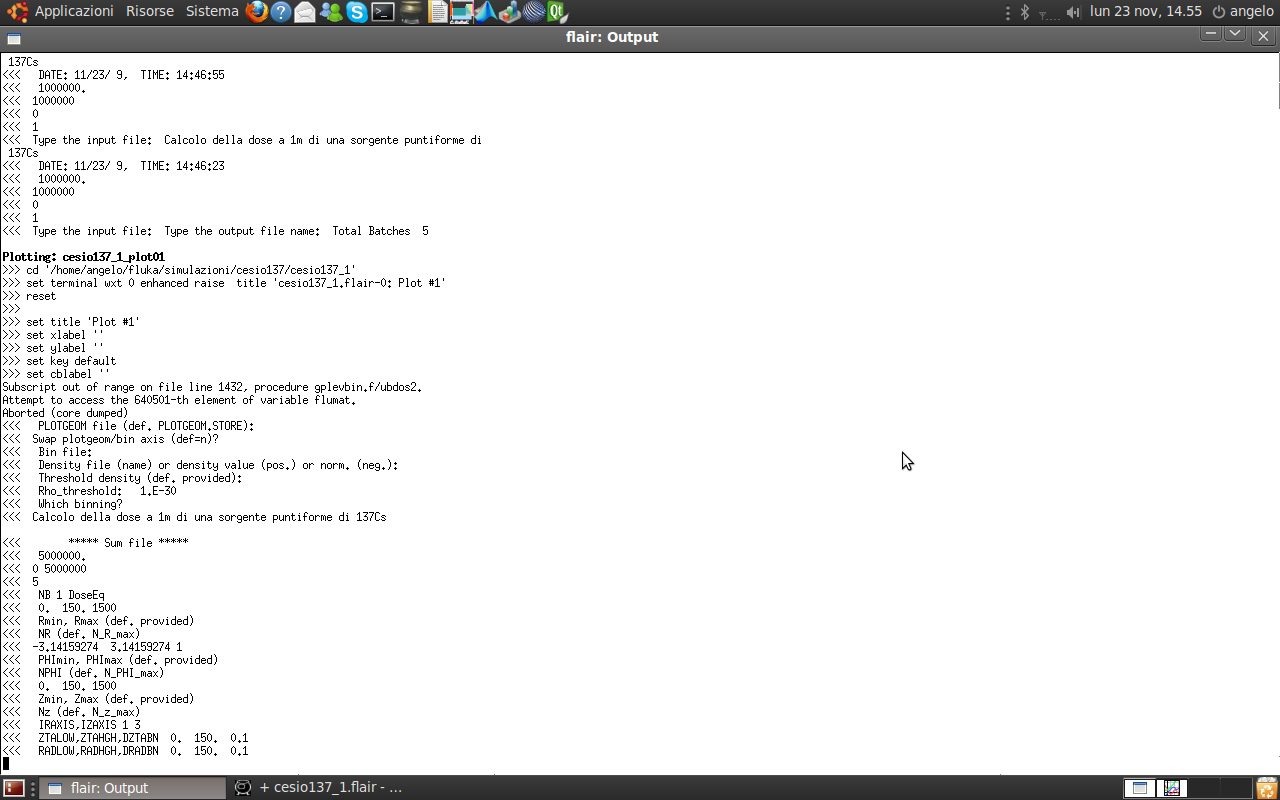 Received on Tue Nov 24 2009 - 12:53:14 CET
This archive was generated by hypermail 2.2.0 : Tue Nov 24 2009 - 12:53:15 CET