From: Masoomeh Yarmohammadi <myarmohammadi_at_ipm.ir>
Date: Sun, 1 May 2016 12:03:13 +0430 (IRDT)
Dear Marlon, Vittorio and Mary,
Many Thanks for your fruitful discussion and sorry for this late reply.
I am going step by step according to your suggestions and thanks a gain.
Dear Marlon and Vittorio, I start to run the Fluka via terminal command. The response is not as I was expecting. It says the "End of Fluka run" but, it does not show ant running process on the terminal, ====Running FLUKA for cycle # 1===, as it is in the page 26 of Fluka Manual.pdf. Also the result of run is not created in the *.inp contained folder. The Terminal Screen shot and the zip format of the *.inp and flair file is attached to this email.
By the way, I installed Fluka and opened the terminal in Fedora22.
Looking forward to here from You and All the other Fluka Experts.
Best regards,
Masoomeh Yarmohammadi Satri
Post-Doctoral Research Fellow, School of Particles and Accelerator, Institute for Research in Fundamental Sciences (IPM)
E-mail : myarmohammadi_at_ipm.ir, myarmoha_at_cern.ch
__________________________________________________________________________
You can manage unsubscription from this mailing list at
https://www.fluka.org/fluka.php?id=acc_info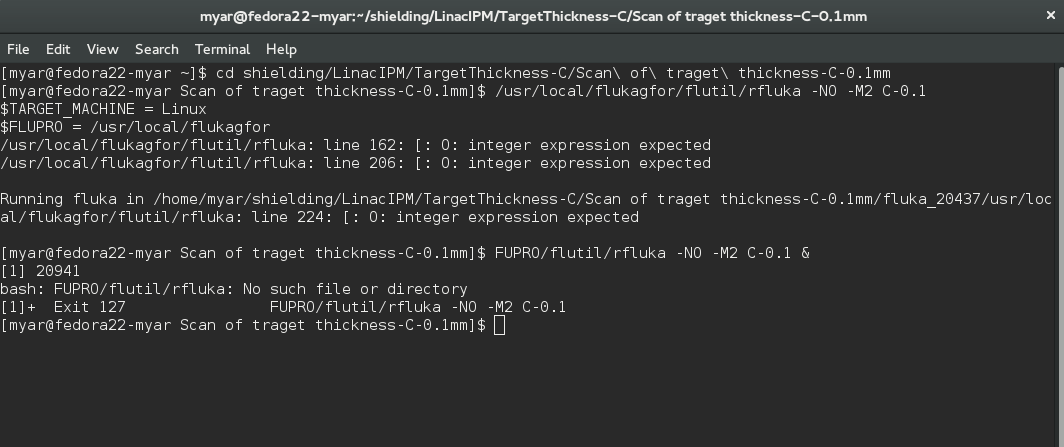 (image/png attachment: Terminal-Fluka_run1)
Received on Sun May 01 2016 - 12:01:53 CEST